500TPH Basalt Crushing Project
Design Scheme
Material: Basalt
Input Size: >750mm
Output Size: 0-5mm、5-12mm、12-24mm、24-31mm、31-40mm
Capacity: 450-500Tons/Hour
Application: High Railway, High Way, concrete mixing station
Project Background
Basalt crushing is never an easy thing because it is characterized by rigidity, high strength and high abrasive resistance. So customers are confronted with various problems during operation. To help this customer solve the problems, ZENITH equipped its production line with 2 HST Single Cylinder Hydraulic Cone Crusher on the basis of abundant experience in basalt crushing.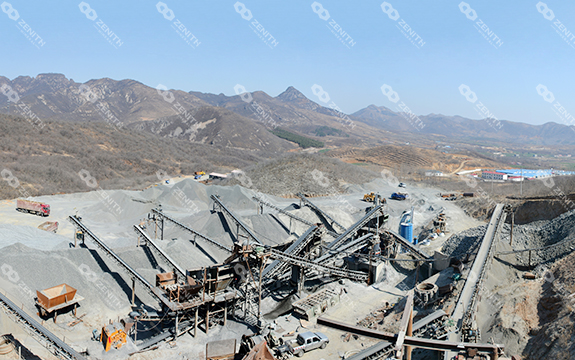 Transformation Scheme
1. Displace the Machines
Considering the conditions of previous machines, ZENITH's engineers replaced the low efficient crushers and took modes of multi-stage screening.
2. Improve the Production Technology of Crushing Production Line
PLC intelligent operation system and dust collector were taken to ensure efficient and eco-friendly production line.
Customer Feedback
Since operation, the basalt crushing production line has been stable. The fine finished products are popular though the prices are higher.
Extended Reading
Traditional Cone Crusher VS Single Hydraulic Cone Crusher
1. Working Principle
Different from traditional cone crusher, single hydraulic cone crusher takes lamination crushing which can achieve not only collision between materials and the plates but also the collision among materials.
2. Granularity
High content of needle-like materials in concrete must exert a negative impact on strength of concrete. The ideal shape shall be cubic. For granularity, content of needle-like materials produced by traditional cone crusher is as high as 15% while by HST single cylinder cone crusher below 8%.
3. Crushing Efficiency
Lamination crushing boasts high efficiency. It can be ascribed to the formation of material layers. The squeeze among dense materials can achieve efficient crushing effect.
4. Wear of Plates
Traditional cone crusher incurs terrible abrasion easily because of its crushing mode while the lamination crushing mode took by HST single cylinder cone crusher only has a slight impact on wear of plates.