UAE 150TPH Marble Crushing Project
Design Scheme
Location: UAE
Material: Marble
Capacity: 150TPH
Input Size: above 20mm
Output Size: 0-5mm; 5-10mm; 10-20mm
Equipment: B series Deep Rotor VSI impact crusher
Application: Machine-made sand production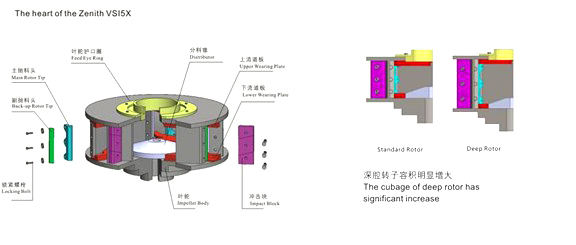 Project Background
A quarry operator in the UAE planned to expand his crushing and screening plant in order to cope with an increasing demand in chip and sand in the market. Sizes of final products as they required were 0-5mm; 5-10mm; 10-20mm (total 3 products). So the customer started to look for ungraded solution.
ZENITH Solution
After consultation with ZENITH engineers, the customer would like to add a B Series Deep Rotor VSI-7611 in the existing plant. This machine would further process the current outputs (20-40mm) into 0-5mm; 5-10mm; 10-20mm.
The B-VSI is designed to produce fine sand with good cubical shape. After commissioning, the plant was proven to be well and the capacity can reach 150t/h which lived up to his previous expectation.
Advantages of B-Deep Rotor VSI Crusher
Rotor is the heart of VSI, and the success of ZENITH B-VSI should be attributed to the application of advanced design of its deep rotor.
The deep rotor is about 50% bigger than that of normal rotor, which means there is a greater space between distributor and feed ring, as well as between the upper and lower wearing plates. Capacity in this way is increases at least by 30% compared to the traditional VSI crusher.