Linfen 250TPH Tailing & Construction Waste Crushing Project
Design Scheme
Material: Tailings and building wastes
Output Size: 0-3, 3-10
Finished Product: Dry-mixed mortar, high-quality aggregate and various kinds of building materials for sponge city construction
Capacity: 250TPH
Equipment: PEW Jaw Crusher, PFW Impact Crusher, HPT Multi-cylinder Hydraulic Cone Crusher, VSI5X Impact Crusher, Vibrating Screen, Feeder, Iron Collector, Dust Remover, Belt Conveyor, Spiral Conveyor and Moistener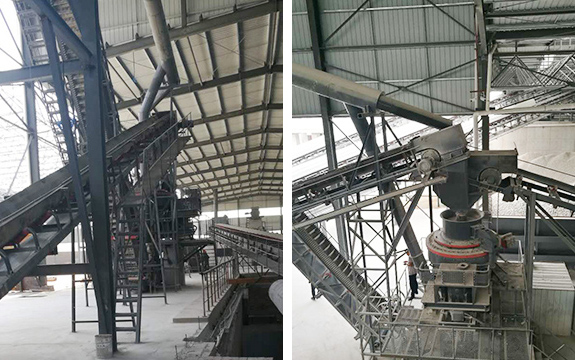 Project Profile
Our customer intended to take part in an industrial park building which can produce high-quality aggregates by processing tailings and recycling building wastes. From collection of tailings and building wastes to integrated treatment, from green building material production to sales of finished products, this project forms a complete operation mode, maximizing the use of tailings and building wastes.
Technological Process
Firstly, building wastes are sent by vibrating feeder to the jaw crusher for primary crushing. After coarse crushing and magnetic separation, the materials are classified by screen. Then screener classifies the materials again into 3 levels --- materials( ≥40mm) which would be sent back to impact crusher to be processed into particles with size within 0-40mm, materials (10-40mm) which enter the aggregate production system for dressing, materials( 3-10mm, 0-3mm) which would enter the storage bin and the fine materials (0-3mm) would be moistened to be used in brick production.
The Profit of Tailing &Construction Waste Crushing
Annual Output Value
1) High-quality recycled aggregate (500,000TPY): The market price of recycled aggregate is 33 yuan per ton, so 16.5 million yuan can be earned per year.
2) Dry-mixed mortar (300,000TPY): The market price of dry-mixed mortar is 220 yuan per ton, so 66 million yuan can be earned per year.
Cost Calculation
1) Costs of recycle and transportation: Very often, the transportation distance of tailings and construction wastes is below 30 kilometers. The expenditure is 10 yuan per ton.
2) Costs of material processing: A ton of material costs 10.29 yuan which covers fee of electricity, quick-wear parts, depreciation of equipment and labor.
Profits Calculation
1) The average price of natural aggregates is 33 yuan per ton. So a ton of materials can get 12.71 yuan after subtracting the costs(10+10.29=20.29)And annual profits of high-quality recycled aggregate can reach ¥6.355 million.
2) Provided that the content of magnetic materials like rebar and iron wire is 1%, then the profits got from these materials: 800yuan/ton X 1 million tons X 1% = ¥8 million.
3) Compared to river sand, the dry-mixed mortar (300,000TPY) can save: 30yuan/ton X 300 thousand tons = ¥9 million.
Gross Profits
Disposal fee of building wastes saved annually: 20yuan/ton X 1 million tons = ¥20 million.
Annual indirect profits: ¥28.155 million+¥20 million=¥48.155 million
Project Advantages
1. The customer chose to enter business relationship with ZENITH after visiting our exhibition hall and having a clear understanding of our strength in construction and mining industry.
2. Customer has specialized aggregate laboratory and has a strict demand on the products. ZENITH has been putting much money and talents on research and innovation in recent years. Now ZENITH has the strong strength on recycle of building wastes and tailings.
3. Full consideration of the profits made the customer choose us. Meanwhile, ZENITH offered various strategies to help the customer solve the problems of industrial chain.
4. The eco-friendly production generated inestimable environment benefits. And because of this, this project became the model project supported and propagated by local government.