60-70TPH Pebble Crushing Project
Design Scheme
Project Site: Guangxi
Material: Pebble
Input Size: 5-30mm
Equipment: VSI5X9532 Impact Crusher
Capacity: 60-70TPH
Application: Sand production
Project Profile
The main machines of this production line are from ZENITH. It is the first line that sand-making machines are installed on the ship. The production line is mainly used to produce machine-made sand with capacity 60-70TPH.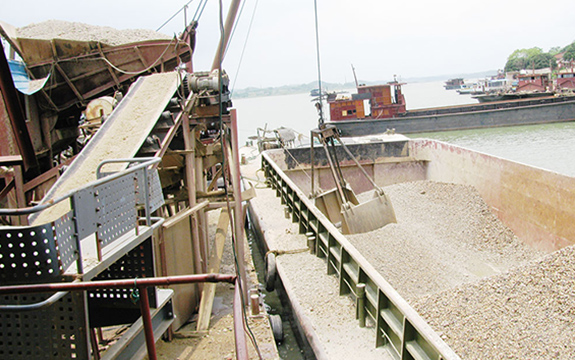 Pebble Crushing Technological Process
The material is sent to the screen first to separate natural river sand and pebble. The material whose size is between 5 to 30mm enters to the sand-making machine along with the belt conveyors. The discharged material goes back to the vibrating screen and the finished product is sent to another boat after being washed by sand washer.
Advantage of Equipment Configuration
1. The latest sand-making machine takes the principle of stone-hitting-stone, which keeps the good shape and reasonable granularity. The finished product meets the using standard of hydropower station.
2. Thin-oil lubrication avoids adding oil by human force so human cost can be saved. The maintenance is simple. The principle of stone-hitting-stone reduces the wear and abrasion of quick-wear parts so the operation cost can be saved to some extent;
3. The production line was established on the boat. So the material can be processed whenever and wherever possible. Meanwhile, the finished product can be carried away for sale at anytime.