KSA 300TPH Basalt Crushing Project
Design Scheme
Material: Basalt
Capacity: 300TPH (10 hours per day)
Output sizes: 10-12, 12-20, 20-25mm
Equipment: GZD1300X4900 Vibrating Feeder; PE900X1200 Jaw Crusher; HP220 Cone Crushers; B-9526 VSI sand making plant; XSD 2610; Vibrating Screens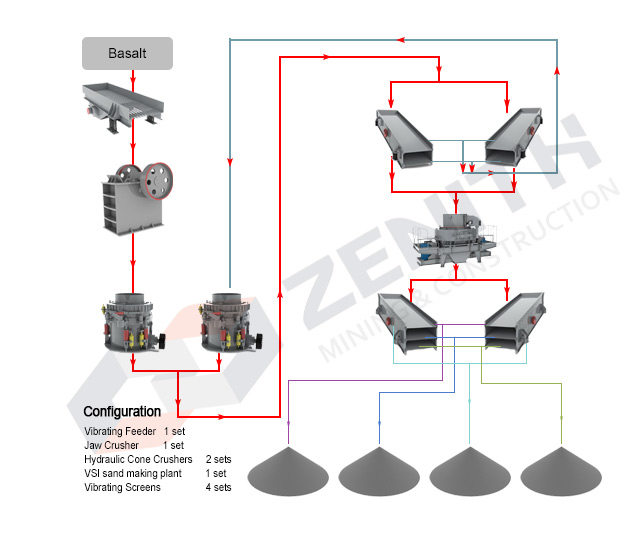 Project Advantage
(1) Proper Initial Investment.
ZENITH is capable of providing complete crushing line with the capacity ranging from 30-600TPH. After two sets of HP220, and the VSI sand making plants, the aggregates sizes were very cubical shape, which can help our clients sell at higher price.
(2) Short manufacture cycle.
The manufacturing time for this plant was around 2 months.
(3) Rapid installation.
Our experienced engineer can install the crushing line within one and a half month.
(4) Simple operation and maintenance.
This crushing line was highly automatic. It is easy for local workers to operate and maintain the crushing line.
(5) Prompt after-sale service.
We have already set up office in Dubai, UAE, and we have experienced engineers there, who can provide prompt and good after-sales services for Middle East clients.