River Pebble Sand Making
2021-10-08 14:33:36
River pebble has high hardness and it is wear-resistant and its appearance is beautiful, so it is widely used in houses, roads, bonsai, gardens and some other areas.
In recent years, the ability of river pebbles to be used to process fine manufactured sand has been discovered. The status of river pebbles in the construction field has been further improved, and fine manufactured sand processed with river pebbles as raw materials has also received high standards.
Brief introduction of river pebble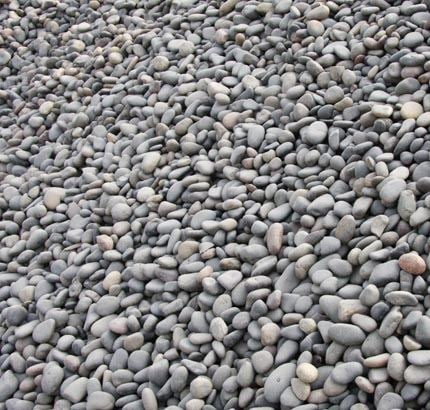 River pebble is a kind of pure natural stone. It is taken from the sand and gravel mountain that was produced by the uplift of the ancient riverbed after the crustal movement thousands of years ago. It has experienced the impact of mountain torrents and constant squeezing and friction during the process of moving water. In the course of tens of thousands of years of vicissitudes, they have experienced waves and water, lost their irregular edges and corners by the collision and friction of gravels and have been buried in the ground for millions of years together with the sand.
The main chemical component of river pebbles is silicon dioxide, followed by a small amount of iron oxide and trace elements and compounds such as manganese, copper, aluminum, and magnesium. River pebbles are mostly found near rivers and seas. Because they are widely distributed and beautiful in appearance, they become an ideal choice for courtyards, roads, and construction stones.
Application of river pebble
River pebble is a kind of silicate mineral with hard texture, wear resistance and stable chemical properties. The natural river pebble is produced into river pebble sand after a series of processing such as crushing, sand making and screening.
River pebble sand is important industrial mineral raw materials. It is widely used in water conservancy and hydropower, high-grade highways, highways, high-speed railways, passenger dedicated lines, bridges, airport runways, municipal engineering, and high-rise buildings in the field of water conservancy and hydropower production and stone shaping. River pebble sand is also widely used as aggregate for concrete.
Why is river pebble popular for artificial sand production?
Besides river pebble, granite, limestone, quartz sandstone, basalt and even construction waste can be used to process artificial sand. But why is river pebble popular for artificial sand production?
First of all, River pebbles are widely distributed and rich in resources, easy to mine, and low in mining costs, which can meet the needs of large-scale production.
Secondly, river pebble is a kind of hard rock, its Platts hardness level is generally 2-3, the hardness coefficient is f=10-15. The texture of river pebble is hard, the compression, wear resistance and corrosion resistance are strong.
Finally, in river pebble sand production process, the amount of stone powder produced in the production process is relatively small, and the material is stable, the performance is good, and the quality of the finished product is easy to control. Therefore, the machine-made sand made from river pebble has excellent quality and stable performance, suitable for high-rise buildings and highways, municipal engineering, water conservancy, hydropower, bridges and other infrastructures.
River pebble sand production plant configuration
The advantages of river pebble are the reasons for its popularity, but if you want to process high-quality machine-made sand, it is particularly important to choose the right production equipment!
Primary crushing jaw crusher: jaw crusher has strong crushing force and large crushing ratio and it is very important in the whole production plant. In addition, jaw crusher has better abrasion resistance, and the corresponding maintenance cost is lower. At the same time, jaw crusher processes a wider range of raw materials.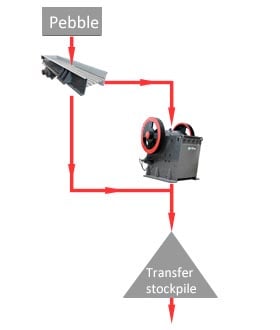 Fine crushing cone crusher: cone crusher is suitable for processing various medium-hard materials, especially for the commonly used sand making materials such as river pebble, granite and basalt. The finished product of cone crusher has good grain shape and high wear resistance. It is the best choice for fine crushing.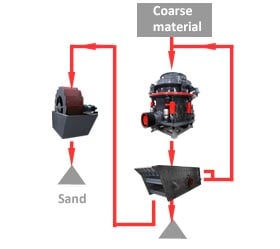 Sand making machine: adopts "rock on rock" and "rock on iron" crushing principle, it has high production efficiency and the wearing parts are wear-resistant, and the corresponding maintenance cost is low. With multiple characteristics, vertical shaft impact crusher can be used as the ideal equipment for sand making.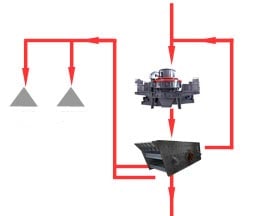 Sand washing machine: sand washing machine is mainly used to remove impurities such as mud on the surface of machine-made sand. Through the sand washing procedure, the quality of machine-made sand will be better and the corresponding market value will be higher.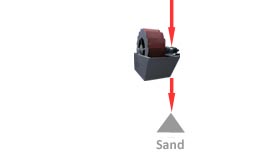 Vibrating screen: vibrating screen is relatively common used screening equipment, which can screen all kinds of stones and screen out finished products of different particle sizes. Generally, there are three-layer and four-layer screens, which are mainly used in the sand making production line to form a cycle operation with the sand making machine.
Feeder and belt conveyor: they are necessary auxiliary equipment in the production line. Feeder is generally installed before jaw crusher and belt conveyor is the connecting tool between the main equipment of the entire production line.
A river pebble sand production plant is generally combined by the above equipment. The model of the equipment need to be configured according to various requirements such as production capacity, power consumption, and finished product granularity.