Jaw Crusher For Sale Philippines At Best Price
2022-10-27 18:03:11
Jaw Crusher Features: Automatic hydraulic design, convenient adjustments, quick installation & operation, stable working performances
【Capacity:】 12-1500TPH
【Feeding Size:】 0-1280mm
【Applicable Material:】 Granite, basalt, marble, limestone, quartz, pebble, copper ore, iron ore,construction waste, calcite, concrete, dolomite, etc.
【Applicable Fields:】 The jaw crusher for sale in Philippines have a wide application in the mining, smelting, building materials, highways, railways, water conservancy and chemical industries.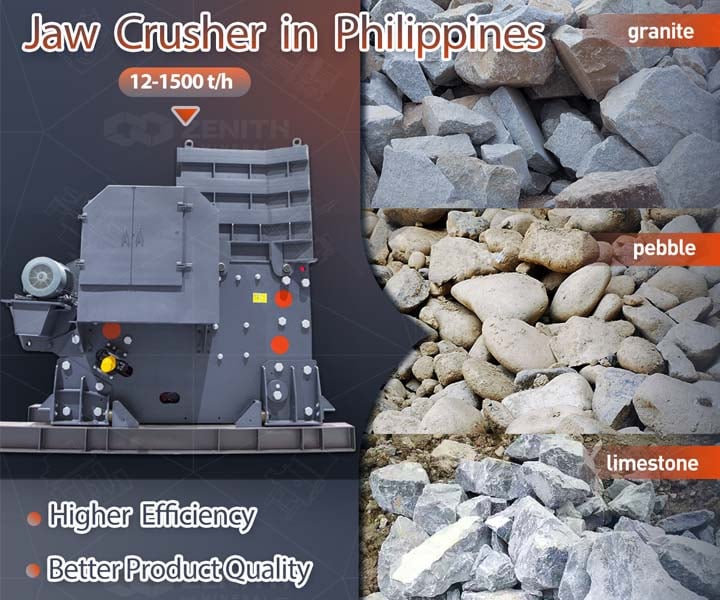 Introduction Of Jaw Crusher
Jaw crusher is mainly used for medium size crushing of various ores and bulk materials, and is widely used in mining, smelting, building materials, highways, railways, water conservancy and chemical industries. Jaw crusher is suitable for materials with compressive strength below 320MPa. And its performance features are large crushing ratio, uniform product particle size, simple structure, reliable performance, simple maintenance and low operating cost.
Our jaw crusher for sale Philippines are mainly used for coarse and medium crushing for various ores and bulk materials, it has proved its incomparable reliability and productivity in thousands of cases of mines, quarries and construction waste recycling applications.
4 types of jaw crusher for sale Philippines
We have different types of jaw crusher for sale Philippines, such as PE series jaw crusher, PEW series jaw crusher, C6X series jaw crusher and mobile jaw crusher etc. and we have professional engineers to design the suitable production plant for customer and choose suitable jaw crusher, to make the whole plant economic and stable.
1. C6X jaw crusher
The appearance of C6X series jaw crusher has made a qualitative leap in the experience of crushing products in many important aspects. Its equipment structure, use function, production efficiency and other indicators are world-class, and it is the ideal coarse crushing equipment in the Philippines.
Max feeding size: 0-1200mm
Output size: 70-300mm
Production capacity: 100-1500 tons per hour
Motor power: 75-400KW
Suitable applications:
1. It is mainly used in metallurgy, mining, chemical industry, cement, construction, refractory materials, ceramics and other industrial sectors. It is a kind of equipment that can be used for coarse crushing and medium crushing of various medium hard ores and rocks
2. It is most suitable for crushing ores, rocks, slags, etc. with compressive strength not higher than 300Mpa
C6X series jaw crusher is our newest type of jaw crusher, which combines present advanced modern technologies. As ideal coarse crushing equipment, it has various advantages:
1, The optimized equipment structure, crushing cavity type, moving jaw movement track and speed parameters can obtain reasonable inertia moment and larger crushing stroke, so that the equipment has higher crushing efficiency and greater return on investment of customers under the same power consumption.
2, High quality raw materials and reliable design provide sufficient equipment strength and durability for C6X series jaw crusher to crush super hard materials, and reduce maintenance costs.
3, Bearings and motors can be selected from well-known brand products in China or abroad according to user needs, with quality assurance to meet user needs for different configurations.
4, centralized grease lubrication, and manual or automatic grease lubrication system can be configured as required to reduce maintenance difficulty.
5, the double wedge adjustment device is used to adjust the discharge opening, which can be adjusted mechanically or hydraulically as required, and is simpler and more efficient than the traditional pad type discharge opening.
6, fast installation and production. The integrated motor base design is adopted. The motor base is directly fixed on the crusher, without the need to make motor foundation, which reduces the installation space and makes the power transmission more stable.
2. K3 Mobile jaw crusher
Input Size: 0-720 mm
Capacity: 30-450 t/h
Applicable Material: granite, marble, basalt, limestone, quartzite, pebble, iron ore, copper ore, mine waste, construction waste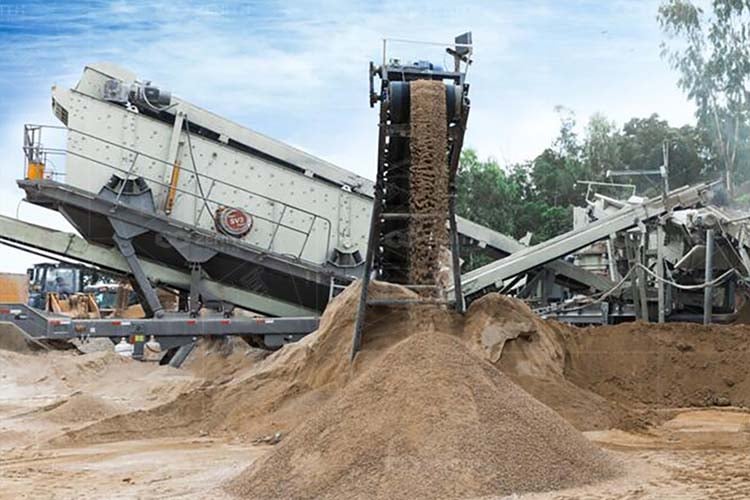 Due to the limited power conditions at the local production site, the jaw crusher driven by the diesel engine is favored by customers in the Philippines. So this K3 series mobile jaw crusher with racks and movable wheels greatly facilitates the use of local customers in remote mining areas.
The mobile crushing station integrates multiple processes such as feeding, crushing, sand making, screening, and conveying. A mobile jaw crusher plant is generally composed of vibrating feeder+ jaw crusher+ conveyor. The specific configuration scheme can be changed and adjusted according to the needs of users. The equipment is assembled in one piece, without complicated installation process, which is very suitable for users who need to change frequently.
Workflow of mobile jaw crusher plant:
Multi machine combined operation (vibrating feeder+ jaw crusher+ conveyor):
The materials fall into the vibrating feeder. After simple screening, they are fed into the jaw crusher uniformly and continuously. The crushed materials that meet the particle size requirements are transported to different stock piles by the conveyor after the specifications are distinguished by the vibrating screen. The other finished products that do not meet the particle size requirements are returned to the jaw crusher for further processing.
3. PE series jaw crusher
PE series Jaw Crusher is a type of classical primary crushing machine with optimized deep crushing cavity, and is widely used in metallic and non-metallic ore crushing, building aggregate crushing and sand making.
PE jaw crushers include PE600 * 900, PE750 * 1060, PE900 * 1200, PE1200 * 1500 and other models; The size of feed inlet shall not be greater than 1020mm; The discharge size is 10-360mm, and the production capacity is between 45 to 800 tons per hour; The motor power is 55-200kw.
Advantages of PE jaw crusher: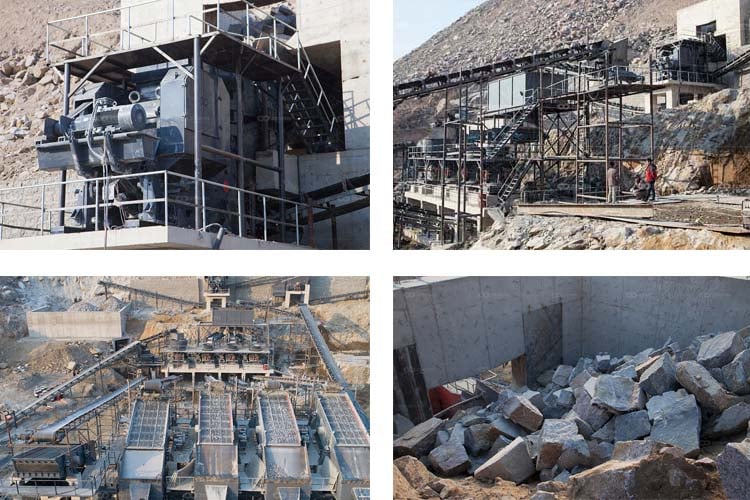 1, Simple structure and reliable performance;
2, high-quality high-manganese steel casting (international accredited) for core parts, extending the service life of core parts greatly and avoid repeatedly shutdowns and maintenances effectively.
3, deep crushing cavity with no dead zone, increase the production capacity;
4, according to market demands Philippines, our PE Jaw Crushers with different models can all kinds of crushing demands for the production scale.
4. Philippines PEW jaw crusher
PEW European-type jaw crusher is suitable for medium crushing and fine crushing of ores and rocks with compressive strength not higher than 280MPa, especially for hard and strongly corrosive materials. The utility model has the advantages of large crushing ratio, uniform product particle size, reliable operation, simple maintenance, etc.
PEW European-type jaw crusher has many models such as PEW860, PEW760, , PEW250 * 1000, PEW250 * 1200, etc.; The feeding size is not more than 720mm; The discharge size is 35-225mm; The production capacity is between 15-500 tons per hour; The motor power is between 45-200kw.
PEW series jaw crusher is a kind of hot sale jaw crusher of our company in the Philippines. It has the following advantages:
1, V-shaped crushing chamber, the width of feed opening is increased, and the material crushing force is more uniform.
2, the bearing block is made of integral cast steel, greatly enhancing the radial strength of the bearing block
3, the eccentric shaft bearing is larger and more durable, extending the service life of the machine.
4, heavy eccentric shaft, high-quality steel casting.
5, more convenient adjustment of hydraulic wedge discharge port.
6, centralized lubrication and bearing protection.
Consider these factors while buying a jaw crusher in the Philippines
When you want to buy a jaw crusher in the Philippines, you should consider the following factors:
1, The output requirement is an important indicator to determine the selection of jaw crusher. The higher the output requirement, the larger the required crushing equipment specification, and the corresponding input and output will increase.
2, the specific conditions of the construction site are the most direct factors affecting the selection of jaw crusher equipment, such as the site size of the construction site, the specific placement position of the crusher equipment, etc.
3, Select manufacturers with perfect after-sales parts supply system to ensure that customers' parts replacement needs are met at the first time, and reduce customers' downtime for maintenance. The mainly spare parts are jaw plate, toggle plate, bearings and so on.
4, pay attention to the wear of jaw plates. Jaw plate (tooth plate) is a part that directly contacts with materials when jaw crusher works. If the jaw plate wears, the discharge opening will increase, the particle size of products will also increase. And the power consumption of jaw crusher increases, which directly affect the economic profit.
Special tip:
When selecting jaw crusher and manufacturers, the equipment shall be selected according to production requirements and material properties. The appropriate manufacturer can not only ensure the quality and performance of the crusher, but also provide reasonable help for the use of the equipment. Remember not to blindly pursue cheap and neglect the quality of the equipment.
How much is a jaw crusher in the Philippines?
The types and models of jaw crusher match the requirements of our production. Different models have different crushing particle sizes and different performance structures. Therefore, the specific equipment configuration, the prices of different models of jaw crushers are very different. The production costs of each model are different, and the price is also different.
As a professional manufacturer with over 30 years' experience, we have many engineers who can help customers to choose suitable jaw crusher according to the specific production requirements. No matter you want a large-scale or small-scale jaw crusher, there is always a suitable one for you.
If you want to visit our customers in the Philippines, we can arrange you to visit nearby. So, feel free to contact us if you are interested in jaw crusher for sale Philippines!