Basalt Stone Crushing Plant
2020-08-20 16:06:51
Generally, many factors should be considered for choosing proper stone crushers in aggregate production line.
First of all, it is the type and hardness of raw material, such as limestone, granite, pebble or basalt (the rock with Mohs hardness above 7 is very hard).
The soft brittle stones will be crushed by jaw crusher, impact crusher, hammer crusher or box crusher (heavy hammer crusher). The hard brittle rocks should be crushed by cone crusher and vertical impact crusher.

Secondly, it's the performance (crushing ratio) and applicability of the stone crusher. With extrusion crushing principle, jaw crusher has large crushing ratio, and produces mainly needle and flake discharge particles, which is suitable for coarse crushing; the products of cone crusher, impact crusher, hammer crusher have good grain shape, and are suitable for medium and fine crushing; impact crusher and hammer crusher are suitable for crushing medium and below medium hard stone; cone crusher and vertical impact crusher are suitable for above medium hard stone.
The third is to consider the output, which requires better matching between the stone crushing equipment.
Finally, whether there are special quality standards for crushed stones. If high requirements for gravel particle size, it is necessary to carry out shaping, and the shaping stone crusher should be equipped.
The complete set of gravel production line mainly includes vibration feeder, jaw crusher, cone crusher, impact crusher, vibrating screen, belt conveyor, dust removal equipment, centralized electric control equipment etc.
Equipment configuration for Basalt stone crushing production line
With high silicon content and abrasion resistance, Basalt is hard and tough material , and difficult to be broken in actual crushing operation. In the design of crushing process, priority should be given to crushers with lamination crushing principle, to reduce the loss of wear-resistant parts.
The equipment combination (four section type) of basalt stone crushing production line is generally as follows: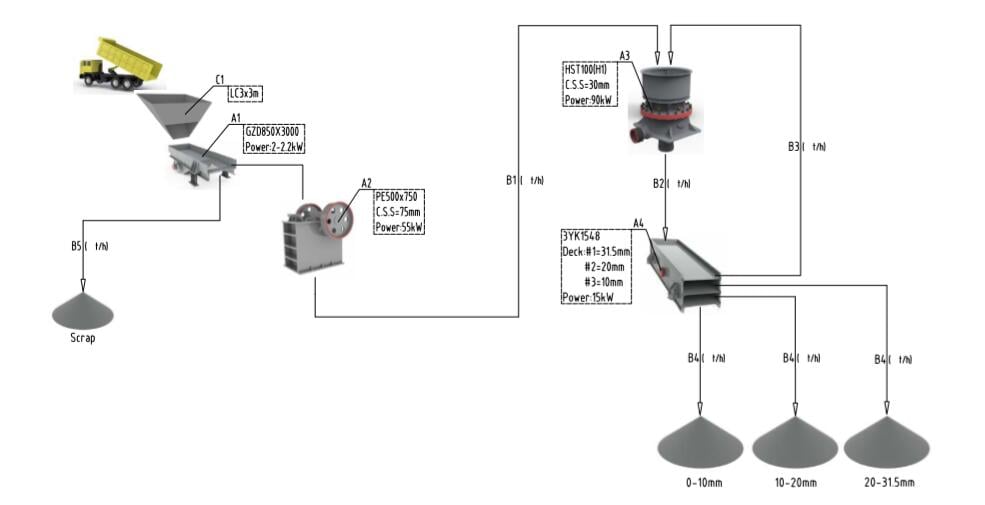 (1) Feeding: vibrating feeder.
(2) Coarse crushing: jaw crusher with feed size of 1500-500mm, crushing to 400-125mm.
(3) Medium crushing: cone crusher or fine jaw crusher with feed size of 400-125mm and crushing to 100-50mm.
(4) Fine crushing: impact crusher (or vertical impact crusher), feeding particle size of 100-50mm, crushing to 32-5mm.
(5) Screening + dedusting: vibrating screen + dry deduster.
(6) Shaping: impact crusher or shaping crusher (after screening the fine crushed stones, the qualified ones will be sent to the storage bin through the belt conveyor, and the materials with unqualified particle size and shape will be returned to the impact crusher or vertical impact crusher for further processing and shaping).
(7) Screening + dedusting: vibrating screen + dry deduster.
(8) Conveying material: belt conveyor.
(9) In order to reduce dust and soil, the coarse crushed stone is transported to the medium crushing crusher by the vibration feeder, and the subsequent stone conveying is completed by the belt conveyor.
Whether dedusting equipment is installed depends on the cleanliness of the gravel (whether the mud content is qualified) and whether there is a water washing process. If there is a water washing process, it is not necessary to install the dust removal equipment.
The crushing mechanisms of different types of crushers are varied. With reasonable selection of stone crusher equipment, efficient configuration, process optimization and strict control of production and processing process, gravel aggregate quality can be effectively improved. Welcome to contact Zenith engineers for stone crushing solution.