Ghana 400-450TPH Granite Crushing Project
Design Scheme
Material: Granite
Capacity: 400-450TPH
Output Size: 0-6, 6-12, 12-19, 19-25
Max Input Size: 600--750mm
Equipment: GZD1300×4900 Vibrating Feeder; PEW1100 Jaw Crusher; GZG—200 Vibrating Feeder; HPC400 Cone crusher; HPF400 Cone crusher; 2YK2160 Vibrating Screen; 3YK2460 Vibrating Screen
Project Advantages
(1) High capacity. This plant can produce 400-450 tons of gravel per hour. If the plant works 10 hours a day, so 4000-4500 tons of gravel per day can largely satisfy the necessity.
(2) Easy to maintain. The core machines are Jaw Crusher and Cone Crusher. So it is easy to change the same spare parts for two Cone Crushers and three same Vibrating Screens.
(3) Prompt after-sale service: we are building our office in Accra and we have experienced engineers there, who can provide prompt and good after-sales services for western Africa countries.
(4) We ZENITH have the right to make this crushing plant as our model plant in Ghana. The model plant has many advantages such as: advertisements, free spare parts, services offered at all times.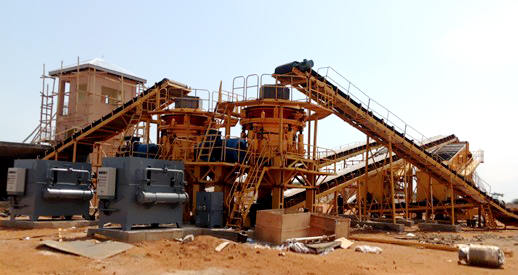 Project Schedule
(1) Equipment production: It needed about 2 months to produce all of equipment in ZENITH's factory after receiving the first deposit, namely, 25% of total amount.
(2) Booking cargo space and documents authentication etc: We used about 1 week to book space, and prepared all of documents, such as bill of lading, Certificate of Origin which must be authenticated in China. 2 weeks were needed.
(3) Shipping time: Usually it would take 45 days from Shanghai to Tema port by shipping.
(4) Customs clearance: The time of customs clearance was up to the customer.
(5) Installation, commissioning and worker training: ZENITH sent engineers to guide installation, which would take 1 and a half month, and then 2-3 weeks for commissioning. During the 2 months, our engineers trained local workers how to operate the equipment.
(6) Total period: From receiving first deposit to starting production, the project spent 4-5 months.