3 Major Stages In Barite Processing Plant
2023-09-01 14:54:46
Analyzing properties of barite
Barite is a non-metallic mineral product with barium sulfate (BaSO4) as the main component, with a Mohs hardness of 3-3.5 and a specific gravity of 4.0-4.6. It is chemically stable, insoluble in water and hydrochloric acid, non-magnetic and toxic.
Specifications of commonly used barite powder:200mesh, 325mesh, 500mesh, 600mesh, 1000mesh, 1250mesh, 3000mesh.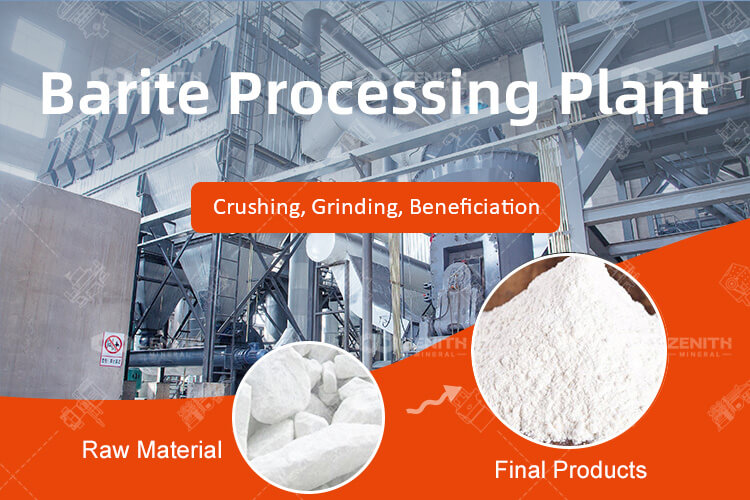 How to process barite?
A complete barite processing plant consists of 3 stages, which are crushing, grinding and beneficiation.
Barite crushing process
The Mohs hardness of barite is 3-3.5, and the hardness is low. The crushing process generally adopts the combination mode of jaw crusher and impact crusher.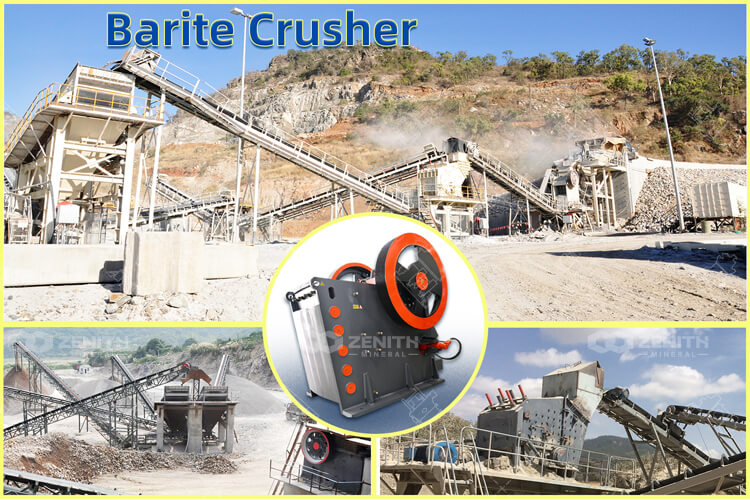 First, the jaw crusher, as primary crushing equipment, crushes the large barite rocks into small pieces. Then, the small pieces of barite are crushed into finished products by impact crusher, as secondary crushing and tertiary crushing. After crushing, the finished products are classified by vibrating screens to meet the general aggregate production needs.
In the crushing process, jaw crusher and impact crusher are key equipment. As leading manufacturer with high reputation, ZENITH provides different types and various models of jaw crusher and impact crusher for customers to choose, such as PE, PEW and C6X series jaw crusher, PF, PFW and CI5X series impact crusher etc. There always will be a suitable one for your production goal!
Barite grinding process
Barite powder production is generally divided into four types:
coarse powder processing (0-3MM);
fine powder processing (20-400 mesh);
ultrafine powder deep processing (400-1250 mesh);
micro powder processing (1250-3250 mesh).
To produce barite powder with different fineness, we need different types of grinding mills.
To produce coarse powder, hammer mill is recommended. It is particularly used for coarse powder production and sand production. The end products can be controlled within 0-3mm (D90).
To produce fine powder, ZENITH provides LM vertical roller mill, MTW Euro-type trapezium mill, MTM medium-speed grinding mill etc. These types of grinding mills can all be used for fine barite powder processing.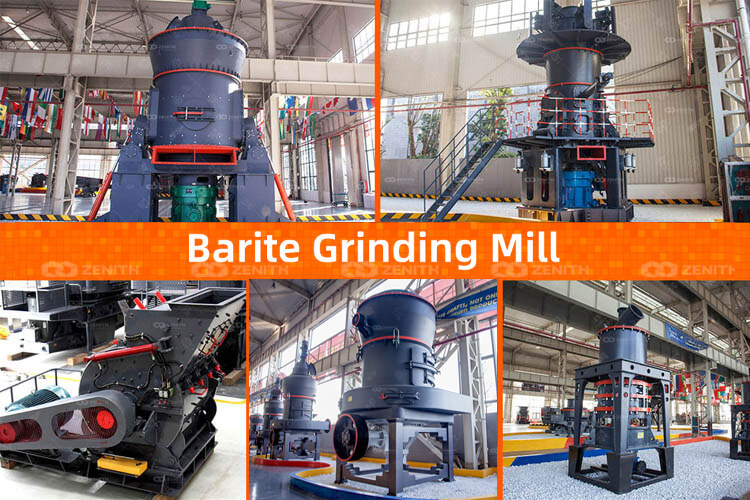 For ultrafine barite powder production, ZENITH has LUM ultrafine vertical grinding mill, which sets grinding, drying, classifying and transportation as a whole and takes little space.
And ZENITH XZM series ultrafine grinding mill is specially used for micro powder production, the fineness can be adjusted between 325mesh to 3250mesh. One thing customers should notice is that the moisture content should below 6%.
Barite beneficiation process
The main beneficiation methods for barite include manual separation, gravity separation, magnetic separation, and flotation.
1.Barite manual separation
After coarse crushing of high-grade barite ore, block barite is manually selected based on its color and glossiness compared to the associated ore.
The manual selection method is simple, convenient, and feasible, with low cost and low dependence on equipment. However, it has high requirements for ore and low production efficiency, which can cause great waste of resources.
2.Barite gravity separation
At present, the beneficiation of barite ore is generally selected by gravity separation equipment such as jigging machine and table concentrator. During gravity separation process, in order to reduce the influence of particle size, the selection is often graded according to particle size.
For barite complex ores with complex associated minerals as well as barite ores with fine mineral particle size and low raw ore grade, which require high concentrate grade, gravity separation is difficult to achieve the goal and further separation needs to be combined with flotation.
3.Barite magnetic separation
When barite coexists with magnetic minerals such as siderite, magnetite, and hematite, magnetic separation is an effective separation method, which can obtain high-grade concentrate products and be used as raw materials for the production of barium based drugs. For ferromagnetic minerals with finer particle size in barite, dry-method high intensity magnetic separators or wet-method high gradient high intensity magnetic separators are usually used for processing.
4.Barite flotation
Due to the gradual depletion of barite ore resources, the increasingly complex ore composition, and the strict requirements on the grade and fineness of barite products in actual application, gravity separation and other methods cannot meet the demand, flotation has gradually become the main method of separating barite.
Flotation is not only an important way to handle complex ores in traditional beneficiation methods, but also a commonly used method for purifying salt minerals.
In barite flotation, the interaction between collectors and barite minerals has a significant impact on the grade and recovery rate of barite concentrate.
5.Barite leaching purification
Leaching purification is mainly used to remove colored impurities such as carbon, iron, manganese, vanadium, and nickel from barite. Their presence affects the whiteness and application prospects of barite concentrate. The main methods to remove these impurities include acid (alkali) leaching, organic acid complexation, oxidation, oxidation-reduction bleaching, etc.
6.Barite calcination purification
Calcination is an effective method for purifying and whitening barite, which can directly remove moisture and impurities that can be oxidized and decomposed at high temperatures. Calcination can cause the volatilization of chromogenic organic compounds, and the appropriate calcination temperature and time should be based on the premise of not damaging the mineral crystals of barite while maximizing the volatilization of organic compounds. In addition, adding chloride during the calcination process is beneficial for improving the whiteness of the calcination.
Through a series of processing techniques, the fineness and whiteness of barium sulfate are improved, high-purity barium salts and barium sulfate are developed, and physical and chemical methods are used to increase the added value of barite.
What is barite used for?
Barite is now widely used in petroleum, chemical industry, light industry, metallurgy, medicine, agriculture, atomic energy, military and other fields, with more than 2,000 uses.
The main products of barite include:
1. Drilling mud weighting agent: This is the most important use of barite, accounting for 85% to 90% of its total consumption.
2. Various barium compounds: At present, the second largest use of barite is to produce barium chemical products. Barite can be used as raw material to produce barium oxide, barium carbonate, barium chloride, barium nitrate, precipitated barium sulfate, barium hydroxide and other chemical raw materials.
3. Lithopone pigment: Lithopone is a commonly used high-quality white pigment and can be used as a raw material for paints and painting pigments.
4. Barite for packing industry:
In the paint industry, barite powder fillers can increase the thickness, strength, and durability of the paint film. The required fineness of the barite used is>2000 mesh, and the whiteness is greater than 95.
The paper industry, rubber and plastic industries also use barite as fillers, which can improve the hardness, wear resistance, and aging resistance of rubber and plastics. The required fineness of the barite used is between 500 and 1250 mesh.
5. Cement mineralizer: In cement production, adding barite has obvious effect on promoting the formation and activation of C3S. And it can also improve the strength of cement.
6. Radiation-resistant cement, mortar and concrete: Barite has the property of absorbing X-rays.
7. Other products: Barite powder can be used to refine kerosene; it can also be used as a gastrointestinal contrast agent in medical treatment; after mixing barite and oil, apply it to the cloth base to make waterproof oilcloth.